Selling a house in Switzerland
MoneyPark Mortgage advice
Benefit from independent and transparent advice in one of our branches or conveniently by phone.
Request advice
You want to sell your residential property, a vacation home or an office property? With MoneyPark you benefit from the best service in Switzerland.
MoneyPark accompanies you during the entire sales process and offers you an all-round service with which you not only find the right buyer promptly, but also save a lot of time and nerves.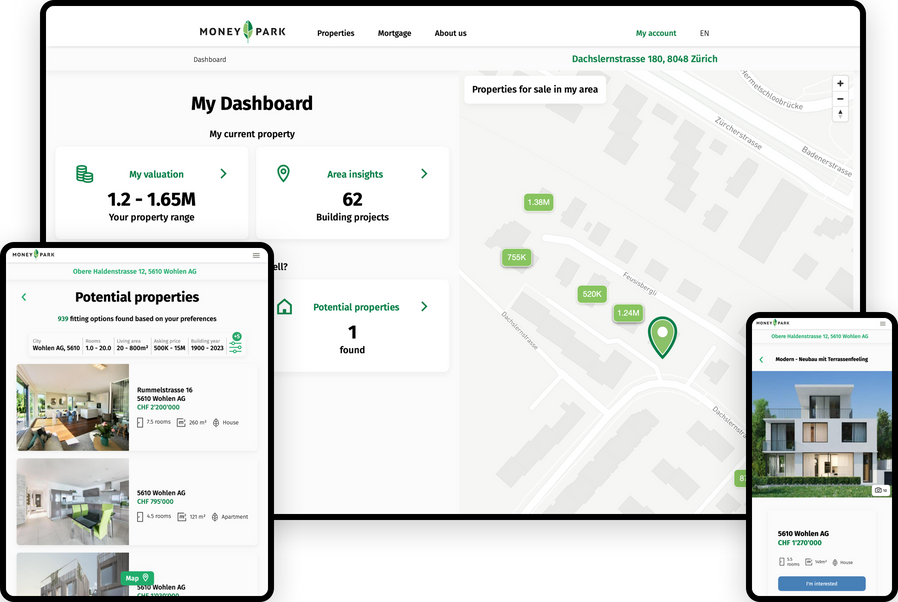 Sell your house with MoneyPark and benefit from many advantages
MoneyPark helps you to find a buyer for your property quickly, easily and cost-effectively. It's quick thanks to our internal database containing thousands of property-hunters. This enables us to identify potential buyers with sufficient purchasing power in no time. It's easy because we support you throughout the selling process, saving you time and effort. And it's cost-effective, as our transparent all-inclusive fee means there will be no additional costs for marketing, and we offer you professional assistance with financial and tax matters too.
MoneyPark supports you during the entire sales process: from the search for a buyer for your current property to the entire sales process and the efficient search for your next property. For your new home we again offer you personal financing and pension planning advice with solutions that are exactly tailored to your individual needs. We offer you all these steps from one source.
Your benefits at a glance
Price
Maximum transparency thanks to all-inclusive fee
No extra costs for marketing
Efficiency and security
Viewings limited only to financially eligible potential buyers who can afford the property
Everything from a single source: we will find the best financing solution for your follow-up property and will be at hand to help you with real estate, mortgage, and pension matters, even after your sale has been completed
Convenience and transparency
We support and advise you throughout the selling process and keep you informed of the latest developments in a transparent and proactive way
We take the pressure off of you wherever possible, e.g. by negotiating with potential buyers on your behalf and coordinating viewings
Advice and technology
Our experts boast many years of experience in the real estate sector and know the market inside and out
We use state-of-the-art technology and smart data analytics tools for valuations, marketing, and analyzing the market
If you would like to receive further information or want to make an appointment, please contact us at Immobilienberatung@moneypark.ch. In the following you find general tips around the topic of selling a house.
Current mortgage rates
The displayed interest rates are the best rates currently available. Your personal interest rates may vary depending on LTV, affordability, mortgage amount and the location of the property.
Your personal rates