The mortgage reference interest rate for tenancies in 2020
MoneyPark mortgage advice
Benefit from independent and transparent advice in one of our branches or conveniently by phone.
Request advice
Calculated by the Federal Office for Housing, the mortgage reference interest rate applies to rental arrangements across Switzerland. The calculation is based on the average rate for mortgages, a volume-weighted interest rate for mortgage receivables in Switzerland. It is therefore more of a composite rate based on existing and new mortgages which is calculated by the Swiss National Bank every quarter. The reference interest rate replaces the interest rate for variable mortgages that used to apply in individual cantons.
The Federal Office for Housing always rounds out the reference interest rate applying under tenancy law in commercial terms. A reduction or increase claim arises as soon as the reference interest rate changes in relation to the previous quarter. If the rate drops from the current 1.50% to 1.25%, tenants can request a rent reduction from their landlord. Further cost changes (such as inflation or a change to the National Consumer Price Index or the cost of living) can also lead to an adjustment.
In the last quarter, the fall in the average interest rate was just under the mark to push the mortgage reference interest rate for tenancies down by a quarter of a percent. The current rate of 1.5% has been in place since June 2017. An adjustment will be made to the current reference interest rate if the average interest rate drops below 1.38% or rises above 1.62%. The average interest rate for all mortgages issued in Switzerland currently lies at 1.43% (as at June 2019).
Another interesting fact is that the interest rate has not risen since it was introduced in autumn 2008, as shown in the following chart.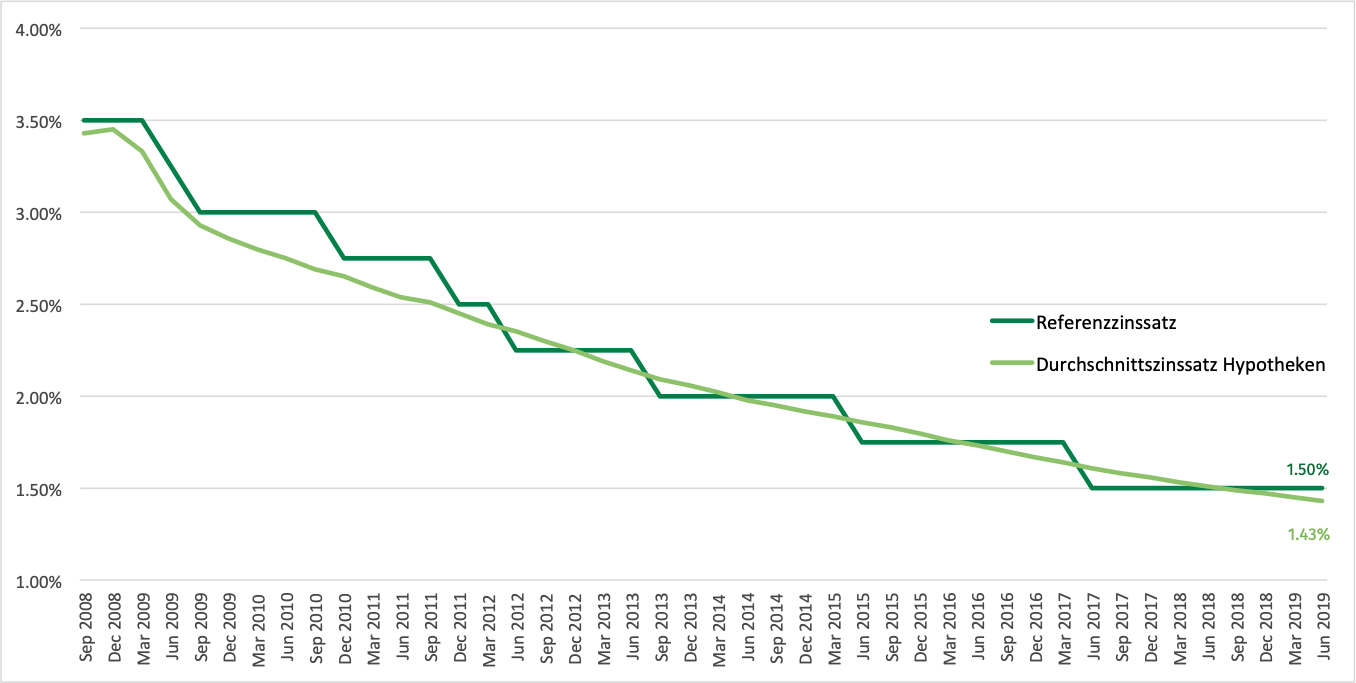 While mortgage interest rates are falling, the rental price index is rising
The rental price index is set by the Federal Statistical Office and forms part of the National Consumer Price Index. It shows the changes in residential rentals in Switzerland in relation to a reference year (2000 in the following chart). "The low-interest rate environment that has prevailed in Switzerland for several years now is benefiting owners far more than tenants", Dr Stefan Heitmann, CEO and Founder of MoneyPark points out. This is clear from the rental price index. While the average interest rate for mortgages has been steadily dropping for around a decade, the rental price index has been continuously rising.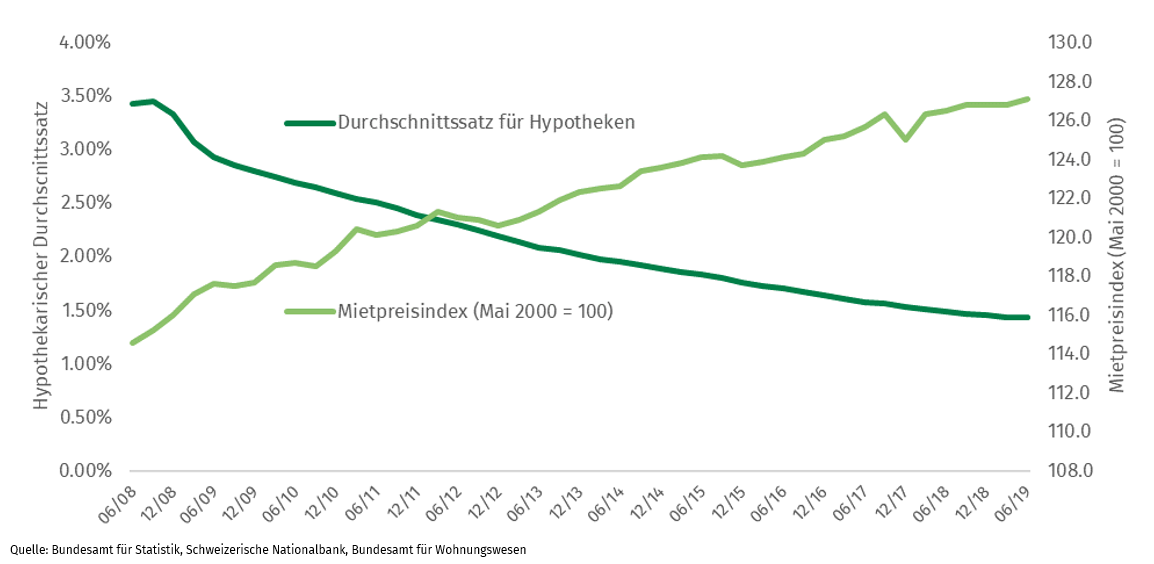 Most tenants don't even ask for a rent reduction
As MoneyPark's 2018/19 dream home study shows, it is usually too much effort for a typical Swiss person to demand a rent reduction. The study reveals that only 41 per cent of those surveyed have claimed a rent reduction from their landlord over the last three years.
Although the reference interest rate for tenancies has been moving sideways for almost two years, it also dipped once in the reference period (mid-2017). The tenants have not exploited their savings potential here.
One of the reasons for the low percentage is that the rent reduction needs to be explicitly requested from the landlord or property manager. And even then, the property manager is not obliged to pass on the full reduction to the tenant. This is because changes to the cost of living or an increase in the National Consumer Price Index can offset a rent reduction.

High saving potential of up to 50%
According to the Federal Statistical Office, a tenant in Switzerland currently pays an average of just over CHF 1,500 a month for a four-room apartment – and that's before ancillary costs. However, owners of a comparable apartment only pay a monthly mortgage rate of CHF 700. These figures are calculated based on a market value of CHF 775,000 and a mortgage of CHF 620,000 (which corresponds to 80% of the market value) as well as the average interest rate for mortgages used by the Swiss National Bank.

This means that, compared to tenants, owners can save CHF 738 a month or CHF 9,400 a year for a four-room apartment.
However, this calculation does not take account of the owner's amortisation costs. The general principle is that, over the course of 15 years, a mortgage should gradually decrease to 65 per cent of the property value. However, it is not necessary to include amortisation in the calculation of owner costs compared to those of tenants. This is because amortisation is a type of "compulsory saving" for owners as it increases the equity in their property. Owners normally finance amortisation with their account funds, meaning they immobilise part of their assets, so to speak.
While tenants, in the best case scenario, voluntarily save money for retirement, owners are encouraged to invest savings in their own property through amortisation. But even if amortisation is taken into account as an expense factor for owners, they still have a cost advantage of CHF 1,600 a year. "In your own four walls, you not only live cheaper, but you also invest in your own pension provision through amortisation", says S. Heitmann, making matters clearer.
Current mortgage rates
Libor mortgage from
0.45
%
Fixed-rate 10 years from
0.75
%
Fixed-rate 5 years from
0.58
%
The displayed interest rates are the best rates currently available. Your personal interest rates may vary depending on LTV, affordability, mortgage amount and the location of the property.
Branches in Aarau, Baar, Baden, Basel, Berne, Bulle, Chur, Fribourg, Geneva, Lausanne, Morges, Neuchâtel, Nyon, Oerlikon, Olten, Pfäffikon (SZ), Schaffhausen, St. Gallen, Sursee, Vevey, Volketswil, Winterthur, Zurich