Mortgage interest rate forecast 2024
MoneyPark mortgage advisory
Profit from independent and transparent advice in one of our branches or conveniently by phone.
Request advice now.
Continued stable interest rates expected for fixed-rate mortgages
An August 2023 survey of mortgage lenders on the topic of interest rate forecasts shows that the majority of them expect stable rates for fixed-rate mortgages in the coming months. For the two-year term, slightly more than 40 percent expect an increase for the next three months, and for six months, the vast majority are convinced that everything will settle at a similar level.
By the end of March, fewer than 20 percent of respondents expect that two- and five-year mortgages could rise, compared with slightly more than 20 percent for ten-year mortgages. About a quarter think there is the most chance of lower interest rates for maturities over five years. For ten-year mortgages, the figure is just over 20 percent, while only just over 10 percent believe two-year rates will fall.
As in the last survey in June, the greatest uncertainties regarding the interest rate forecast are seen in inflation and recession fears. The economic situation in the EU and the USA follow in the other places. The course of the war in Ukraine and the trade war between China and the U.S. are currently cited by only a few as the main drivers of interest rate developments.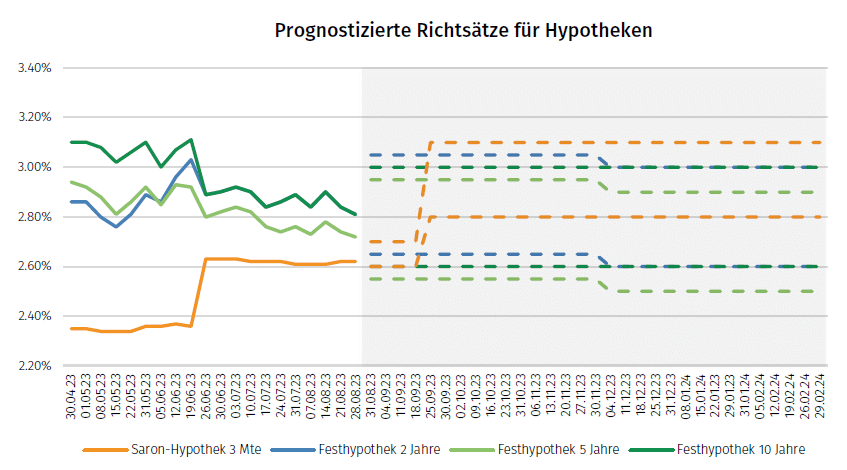 Recommendations for choosing a mortgage
Current interest rate situation
After the last interest rate steps of the Swiss National Bank (SNB), fixed-rate mortgages are currently mostly cheaper again than Saron mortgages. Thus, at least in the short term, savings with Saron mortgages are no longer possible.
Risk with Saron mortgages
Who speculates on rapidly falling interest rates again in the future, takes an increased risk. With further interest rate steps of the SNB, the interest rates for Saron mortgages could still rise.
Interest rate comparison is worthwhile
The interest rate differences between the individual providers are significant, so a comparison is worthwhile in any case.
SNB September 2023 Interest Rate Decision: Impact on my mortgage
The SNB interest rate decision of September 2023 to leave the key interest rate at 1.75% was unexpected for most banks. Nevertheless, saron and fixed mortgage rates are closer together than ever before. This makes a thorough analysis of your individual situation all the more important when choosing your mortgage.
Do you want individual mortgage advice? Then make an appointment with a MoneyPark advisor.
Current mortgage rates
The displayed interest rates are the best rates currently available. Your personal interest rates may vary depending on LTV, affordability, mortgage amount and the location of the property.
Calculate interest